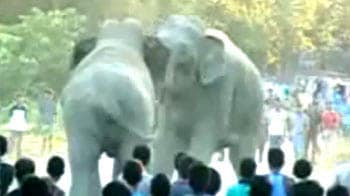 Goalpara (Assam): Rarely is a clash of the titans this literal.

Two fully-grown elephants were seen battling for two hours on a main road near Goalpara town, which is 2.5 kilometre from Guwahati.

Forest officials fired 11 rounds in the air to grab the elephants' attention. They then moved back in the Bhalukdubi proposed reserve forest nearby.

Hundreds of spectators watched the action.

Forest officials who witnessed the war say the elephants were from different herds. It's "mast" season, when male elephants are in heat. If the elephants are from the same herd, other males move away, leaving the bull in heat to engage with a female in the herd. But when the bulls in heat are from different herds, they often fight each other till one is killed.

Experts also say that the encroachment by humans on their natural habitat in areas like this has elephants from different herds desperate to protect their turf.